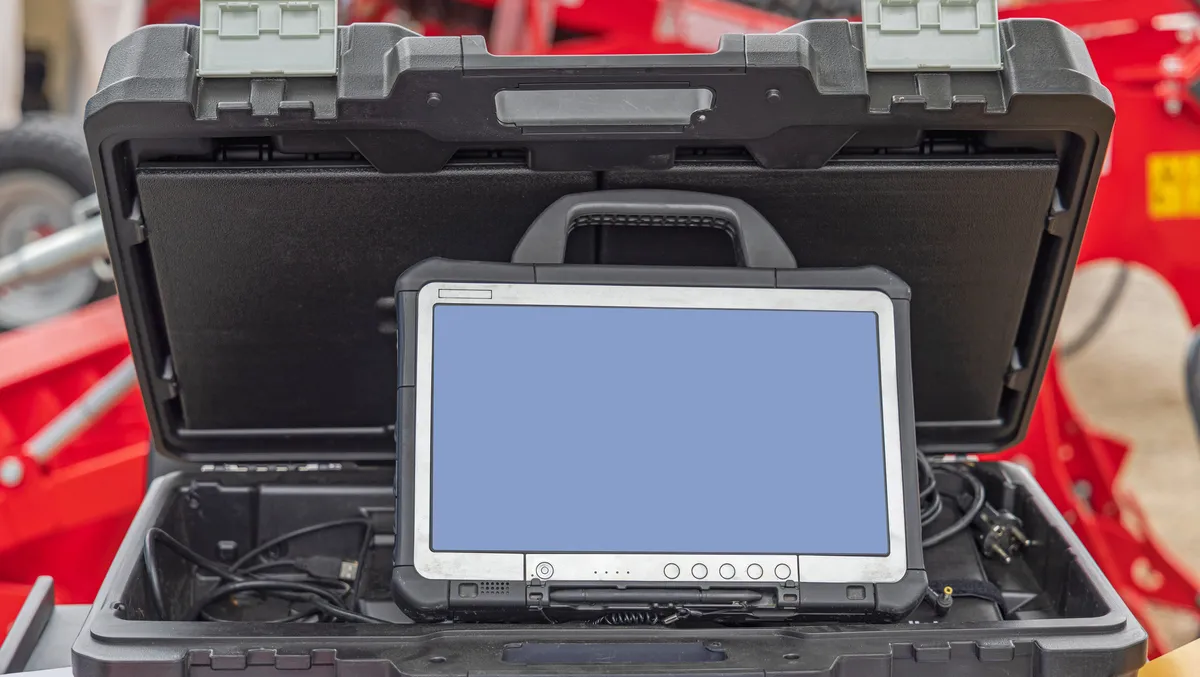 How enterprise tablets save and make you more money than consumer devices
Enterprise tablets that are purpose-built for specific front-line workers and applications will always end up being the better investment, even if the upfront cost is a bit higher than consumer tablets. That's something shareholders and business leaders will understand when they see productivity and efficiency improvements directly resulting from enterprise tablet utilisation.
Challenging the status quo by sticking with or switching to enterprise devices amidst the consumerisation of business technology will give your team a competitive edge. While everyone else is busy trying to fix their operational issues stemming from insufficiently equipped front-line workers, your front-line workers will be busy serving customers who may very well become loyal to your business thanks to your fast service, knowledgeable staff and ability to consistently deliver what they want on time, without issue.
So, why do we see so many consumer tablets in the hands of front-line workers (while they're on the clock)? The only things that consumer tablets are purpose-built for are gaming, social media and video streaming. They have never been intended to serve as the command centre for high-pressure, fast-paced 24/7 business operations.
It's a fascinating trend – and one that should end quickly for the sake of businesses' success, IT managers' relief, front-line workers' sanity and customers' satisfaction.
The longer that business leaders try to fit a square peg in a round hole, the longer it will take to eradicate the worker mistakes and downtime that lead to business losses and service failures. This resistance to purpose-built devices doesn't even have a good financial justification when we just scratch the surface.
The truth about consumer tablets
Research analysts have confirmed time and again that the total cost of ownership (TCO) for consumer tablets is nearly double that of enterprise tablets. They've also demonstrated that the total benefits of ownership (TBO) are far lower with consumer tablets. Productivity losses and IT support costs are 2.5 times higher with consumer tablets. That makes it hard to argue that consumer devices are better for your budget.
Plus, your workers aren't going to stick around if they can't do their job or do it well because they're given the wrong technology tools or those tools constantly fail. And the cost of recruiting new workers is through the roof right now – far higher than it would probably cost to give your current workers what they want, which is technology that makes their jobs easier and makes them look good to their customers and bosses. If they can't help customers find what they need, then customers will lose their patience, workers will get frustrated and all-around satisfaction with your company will drop.
So, all organisations must carefully consider the purpose of their mobility solutions and then find tablets that were built for that purpose. It's the only way to truly make everyone happy – including front-line workers, your IT team, and your customers.
What makes a "purpose built" tablet so special?
Purpose-built enterprise tablets do not come with the type of bloatware that you find on consumer tablets. What is included is a suite of essential "enterprise focused" tools and utilities that improve productivity and speed up operations. These tools and utilities allow you to:
stage a handful (or thousands) of tablets in seconds.
transmit barcode data to apps — without any programming (whilst taking advantage of an in-built, dedicated scan engine).
control which GMS services and apps are available to front-line workers, third-party device managers and other stakeholders.
easily test each tablet's main systems with the press of a button and collect targeted diagnostics.
automatically enable enterprise mobility management (EMM) support for every feature in your tablet for easy device management.
boost device security.
automatically update the Android operating system (OS) and add both hardware and software features as needed.
boost workforce productivity.
With the holiday season fast approaching, let's take a dive into the retail sector and see why enterprise tablets provide far superior value for this industry, among many others.
Consider all the current challenges retailers are facing; labour shortages compounded by COVID, a massive spike in online order volumes, multiple purchase and return channels to manage, combined with the fact that stores are having to act as fulfilment hubs. All of these factors contribute to higher costs and lower margins, while the pressure to deliver increased productivity and better customer service remains.
Enterprise-grade tablets provide far greater visibility, leading to more informed decision-making and better customer service. For example, product information and stock levels, price verification and mobile point of sale are instantly available to staff, resulting in a more positive experience for the customer. Retail staff need devices that are reliable, as they are the ones who must explain to customers why they can't pull up product, pricing or shipment information in a split second when a consumer device is sluggish or offline due to a dead battery or poor wireless connection.
The takeaway
When you buy a consumer tablet for front-line workers, you're automatically putting those workers – and your entire business – at a disadvantage. If this isn't enough to convince you, there are plenty of other reasons why you should opt for enterprise over consumer tablets.
Consumer mobile devices cost up to 50% more than rugged devices over five years.
85% of retail employees feel they could provide a better customer experience if they had handheld mobile computers with built-in scanners.
Workers submit approximately 20% more support tickets with consumer tablets because of their lack of rugged design and troubleshooting tools.
Workers lose an average of 54 in productivity each time they have to charge their consumer tablet.
Consumer-grade devices are 28% more likely to experience wireless connectivity issues that impact productivity than enterprise-grade devices.