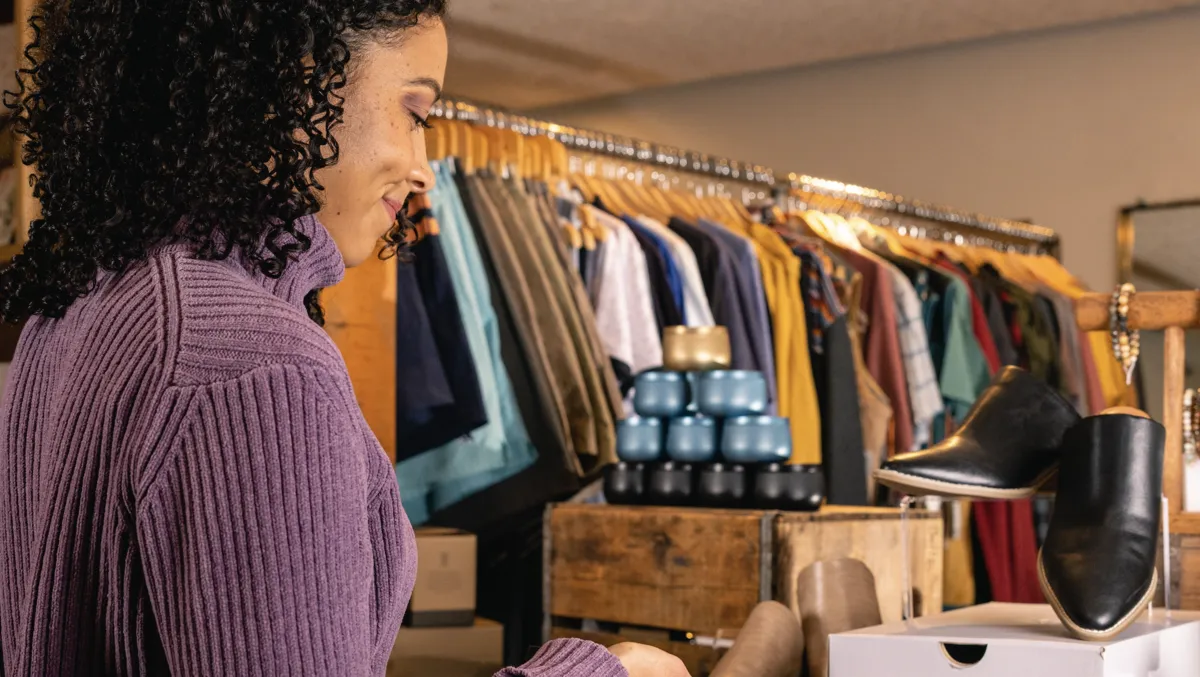 The need for purpose-built mobility in retail today
Mon, 3rd Oct 2022
FYI, this story is more than a year old
Against the backdrop of increasing competition, retailers are increasingly looking for ways in which they can take costs out of their business without sacrificing operational efficiencies. As a result of these business considerations, a growing number of organisations are currently using or considering consumer-grade devices across their operations, without realising that may be to the detriment of their own business.
By design, consumer-grade devices are best suited for slow-moving, shorter lifecycle and single-user and personal applications. They are not made for the tough, fast-paced mobile workflows that retail personnel often work across, which means that devices may be prone to damage from drops, continuous use, extreme temperatures, and harsh and sensitive conditions such as dust and water.
Retailers may also be inclined to invest in less expensive consumer-grade devices, as these can be 50% cheaper than purpose-built devices. However, findings in VDC Research's Enterprise Mobility Total Cost of Ownership Report shows that "after the first 12 to 18 months, the reliability of non-rugged devices drops significantly driving up their Total Cost of Ownership (TCO)." This means that consumer-grade devices will need to be turned over and replaced much quicker, which can be an issue beyond simple cost and productivity downtime as organisations may find it difficult to procure the same devices that match the rest of their equipment fleet (leading to compatibility issues) due to the faster product refresh cycle of consumer grade devices – which means that businesses may have to replace ranges of casing, adapters, chargers, and cables frequently.
The need for rugged, purpose-built devices in retail
Rugged mobile devices are not just designed for rough-and-tumble warehouses and manufacturing plants, but are also ideal for service, delivery, and a variety of retail applications. These devices offer superior, fast, and extensive 1D/2D scanning capabilities including enhanced scanning of damaged, dirty, poorly printed barcodes or even in bright sunlight/outdoors, toughened glass touch panels to withstand harsh conditions including frequent sanitisation and have user-replaceable battery to last multiple shifts.
Another advantage of using a robust purpose-built device is that you can perform several functions and on a single device. These functions could include multiple workflows in a retail environment - Inwards, Replenishment, Stock-take, Physical Inventory Audits, Mobile-POS, Q-Busting, Omnichannel, Planogram Compliance, Returns, Transfers and Customer Engagement.
The questions you should ask before choosing a mobile solution
To best understand if your retail operations could benefit from deploying rugged devices, please consider the following questions:
In what environment will your devices be used? If your employees use devices on the retail shopfloor or in warehouses or delivery vehicles, they need devices that can stand up to tough conditions. Unlike consumer devices, rugged devices are specifically engineered to work even if dropped from a forklift, from a ladder when stacking a shelf or exposed to truck vibration.
Are your devices exposed to a wide variety of environmental conditions? If your employees and the devices they use are regularly exposed to water, dust, fluctuating temperatures and other outdoor and indoor environmental conditions, you should consider ruggedisation. Rugged devices are specifically designed to handle extreme environments, so that workers can continue with their roles and service customers no matter the circumstances.
Do your workers need specific device configuration and regular app updates? Rugged devices typically allow more OS and hardware personalisation than consumer devices. Personalisation allows devices to be configured to the optimal settings for your company's unique needs, which means your employees work productively and continue to meet your customers' expectations.
Are your device repair fees adding up? A retail business with deploying consumer grade mobile devices will spend more per year to support their equipment. That's because consumer devices have a shorter life cycle and increased frequency of failure than rugged devices, which could translate into a higher cost of ownership.
Do your employees keep sensitive data on their mobile devices? Consumer mobile devices are more susceptible to viruses and unauthorised access and are easily lost or stolen. An enterprise-grade, rugged device is more easily managed through your mobile device management.
Retailers that care about business continuity and meeting customer demands should consider investing in rugged devices that are fit for purpose in busy environments. Modern rugged handheld computers provide multipurpose utility in an ergonomic form factor, driving improved productivity for your mobile workers and helping reduce the total cost of ownership for your business.